| Saints Row: The Third - The Full Package | Castlevania Anniversary Collection | Sniper Elite V2 Remastered |
| --- | --- | --- |
| | | |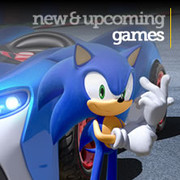 Find release dates, trailers, and scores for major upcoming and recent videogame releases for all platforms, updated weekly.
1.

Nuclear Throne

Release Date:

March 20, 2019

The idea behind Vlambeer's Nuclear Throne is simple: it's a post-apocalyptic roguelike-like top-down shooter. Not 'the final hope of humanity' post-apocalyptic, but 'humanity is extinct and weird mutants and terrifying monsters now roam the world' post-apocalyptic. All you need to do is take control of one of those mutants and shoot the things trying to kill you. Use simple weaponry like quintuple-barreled bazookas, super plasma cannons or exquisite cursed laser miniguns. Or the game might just hand you a screwdriver. Deal with it. Mutate some new limbs and abilities as you go, and become the ultimate Throne hunter. Find secret vaults with game-changing crowns, discover rare overpowered weaponry, or compete in the worldwide Daily and Weekly challenges. All these things and more you could do if only you were good at this game. Can you reach the Nuclear Throne?

2.

Cuphead

Release Date:

April 18, 2019

Cuphead is a classic run and gun action game heavily focused on boss battles. Inspired by cartoons of the 1930s, the visuals and audio are painstakingly created with the same techniques of the era, i.e. traditional hand drawn cel animation, watercolor backgrounds, and original jazz recordings. Play as Cuphead or Mugman (in single player or local co-op) as you traverse strange worlds, acquire new weapons, learn powerful super moves, and discover hidden secrets while you try and pay your debt back to the devil!

3.

Blaster Master Zero II

Release Date:

March 20, 2019

4.

Assault Android Cactus+

Release Date:

March 8, 2019

Experience an arcade style twin stick shooter set in a vivid sci fi universe. Junior Constable Cactus is outside her pay grade when she responds to a distress call and ends up stranded on a crippled space freighter under attack by its own robot workers. With a draining battery mechanic instead of lives, Assault Android Cactus+ challenges you to think fast and shoot faster. Charge head first into an army of refitted robots, transforming stages and massive boss showdowns.

5.

Final Fantasy XII: The Zodiac Age

Release Date:

April 30, 2019

Enter an era of war within the world of Ivalice. The small kingdom of Dalmasca, conquered by the Archadian Empire, is left in ruin and uncertainty. Princess Ashe, the one and only heir to the throne, devotes herself to the resistance to liberate her country. Vaan, a young man who lost his family in the war, dreams of flying freely in the skies. In a fight for freedom and fallen royalty, join these unlikely allies and their companions as they embark on a heroic adventure to free their homeland. Final Fantasy XII: The Zodiac Age improves upon the 2006 classic Final Fantasy XII, now more beautiful and easier to play than ever. The high-definition remaster introduces several modern advancements, including reconstructed battle design and a revamped job system. With newly implemented trophies and share functions, as well as stark visual and sound improvements in true HD for the first time, players both returning and new to the game will experience a grand adventure that spans the world of Ivalice in an entirely fresh and improved way.

6.

VA-11 Hall-A: Cyberpunk Bartender Action

Release Date:

May 2, 2019

Welcome to VA-11 Hall-A! In this world, corporations reign supreme, all human life is infected with nanomachines designed to oppress them, and the terrifying White Knights ensure that everyone obeys the laws. But, this story is not about those people. You are a bartender at VA-11 Hall-A, affectionately nicknamed "Valhalla." Although it is just a small bar in downtown Glitch City, it attracts the most fascinating people this side of dystopia. Keep your clients lubricated and you will be made privy to the most interesting stories.

7.

Final Fantasy X / X-2 HD Remaster

Release Date:

April 16, 2019

Two of the Most Celebrated RPGs of their Generation - Now in Beautiful High Definition! Over 200 hours of gameplay, including the International version content never before released in North America. Relive the fateful journey with fully remastered HD visuals and rearranged music.

8.

Cook, Serve, Delicious! 2!!

Release Date:

April 10, 2019

Cook, Serve, Delicious! 2!! is the sequel to the surprise best selling original, one of the few games that gives players complete control on how they want to build their restaurant.

9.

Baba Is You

Release Date:

March 13, 2019

Baba Is You is a puzzle game in which the rules of the game can be changed during gameplay, leading to surprising and unique interactions. In this tricky puzzler, you don't just make the rules – you are the rules!

10.

Ape Out

Release Date:

February 28, 2019

Ape Out is a wildly intense and colorfully stylized smash 'em up about primal escape, rhythmic violence, and frenetic jazz.